If you're in a rush, I'd recommend that you get the Tundra 65 cooler from YETI.
One of the biggest headaches when it comes to camping is food. You can't bring your fridge with you, so you've got to bring food that won't spoil. This seriously limits your options when it comes to meals and snacks.
That's why you need a cooler. Pick up an outdoor cooler and throw some ice in it, and now you've got somewhere to keep your perishable food. You can bring meat, cheese, pre-cooked meals, or even a few cold beers.
However, there are a ton of coolers on the market. It can take hours to dig through all the options that are available to you.
If you've got some spare time, this article will show you what options you can choose from, with reviews of some of the best coolers for camping money can buy. You'll also learn the criteria that you should be considering when picking out a cooler.
Let's get right into it!
Best Coolers For Camping: Our Top Picks
Best Camping Coolers
Best Electric Coolers (Portable Refrigerators & Freezers)
Best Day Trip & Hiking Coolers
YETI – Tundra 65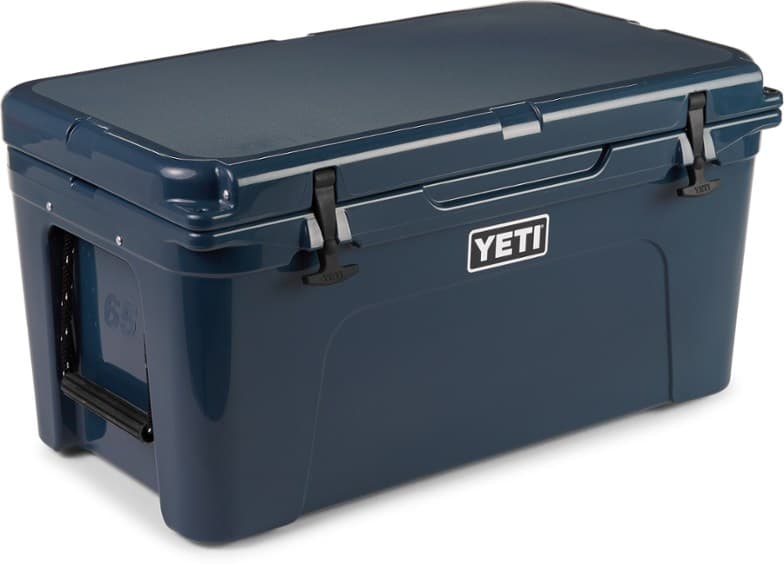 Cooler Type: Hard-sided | Weight: 27 lbs | Capacity (L): 57.6 | Materials: Rotomolded polyethylene
YETI has always been one of the top brands when it comes to coolers. The Tundra 65 is one of their high-end models, but it's definitely worth the price.
First of all, I was very impressed by the variety of colors that this model came in. You could go for ice blue, river green, seafoam, white, or even desert tan if you want to feel like a Navy SEAL during your next camping trip.
You'll be hard-pressed to find a unit with insulation superior to this YETI cooler. This baby is backed by three robust inches of PermaFrost insulation, a unique material that keeps heat out. It also features a bear-resistant design to ensure that your supplies are secured from furry raiders.
One of the best things about this cooler is that it's exceptionally durable. Nothing short of a sledgehammer will put a dent in this thing.
Lastly, the latches on this beast are made of heavy-duty rubber, which ensures their longevity and resistance to weather.
Pros:
Enough color options to satisfy everyone
Thick three-inch insulation keeps all your food crisp
Bear-resistant latches make this safe to use overnight
Durable, so you won't have to buy another cooler ever again
Rubber latches mean your cooler won't break while you're out and about
Cons:
Premium pricing, but well worth it in my opinion
Best for: campers who are looking for the best cooler – this one will last you a lifetime.
BougeRV 12V 30 Quart Portable Refrigerator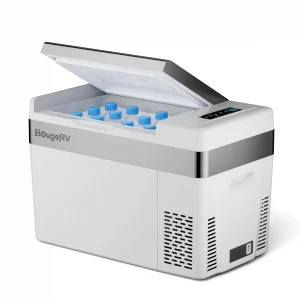 Cooler Type: Electric hard-sided | Weight: 22.8 lbs | Capacity (L): 28 | Materials: Various
After spending two days in the wilderness with the BougeRV 30 Quart Portable Refrigerator, I can tell you that without a doubt, I'll never be leaving home with another cooler again.
With a powerful enough portable battery the BougeRV can last for days using its ECO Mode of 45W.
Storage wise, the cooler can hold up to 40 cans of soda, but we were able to get two full days worth of food in the 28 liter cooler and it stayed as cold, if not colder than our fridge at home.
When traveling, the BougeRV Fridge plugs right into your car's 12v power supply, and upon arriving to our campsite, we switched over to our portable battery station.
A highly durable cooler that we can't recommend enough, especially based on its $299 price point.
Pros:
Shockproof design works allows you to take this bad boy on forest roads and beyond
Extremely energy efficient – uses less than 45W in ECO mode, and MAX Power mode uses less than 1kWh per day
Operates between 40-45 dB making it completely unnoticeable outdoors
Cools to 32 degrees within 16 minutes
A 2-year warranty that can be upgraded to 3 years.
Cons:
Slightly less capacity than some of the other similarly sized coolers
Best for: Pretty much anywhere you'll have power or be bringing it with you.
Igloo BMX
Cooler Type: Hard-sided | Weight: 16 lbs | Capacity (L): 49.2 | Materials: Polyurethane
This Igloo cooler has a sturdy case that looks like it could take quite a beating. It has a steel leg plate around the bottom part. If you're clumsy like me and happen to trip over this cooler, let's just say I feel sorry for your leg.
Heavy-duty body might make you think it's heavy, but it only weighs 16 pounds. That's great if you're parking far away from your campspot.
This cooler has a 52 quarts capacity. If you avoid using bulky food packaging, you can store enough food for a five-day family trip.
Finally, it's worth mentioning that it comes in six color options. You can choose the one that goes well with your other camping equipment.
Pros:
Thanks to skid pads and the leg plate, this cooler is quite sturdy
It can keep your groceries cool for up to five days
With a capacity of 52 quarts, this cooler can hold 83 cans of beer
The lid has a molded-in fish ruler that lets you measure your catch right away
For a hard cooler, it's quite affordable
Cons:
Rubber latches tend to catch against clothes
Best for: campers looking for a premium-quality cooler at an affordable price.
Coleman – Steel-Belted Cooler

Cooler Type: Hard-sided | Weight: 18.38 lbs | Capacity (L): 51.1 | Materials: Steel
This cooler is far cheaper than the Tundra 65, making it a prime choice for those who need to keep their supplies chilled without breaking the bank. Despite the lower price, you still get a ton of storage space with this model.
Much like the Tundra 65, this cooler from Coleman comes in quite a few different colors. Green, red, and turquoise are some of the colors you can choose from. You can also go for stainless steel for a modern look or matte black for that tactical aesthetic that's popular these days.
The total capacity for this unit stands at 54 quarts. That means it can fit as many as 85 cans. If 85 cans of Voodoo Ranger aren't enough to keep you satisfied during a camping trip, then you might need to think about cutting down on the brewskies. In all seriousness though, you won't fall short on capacity here.
The insulation on this cooler is thick enough to keep your ice alive for four days in temperatures of up to 90 degrees Fahrenheit.
You'll find that the construction of this Coleman cooler is top-notch. Its stainless steel, rust-resistant hardware and ergonomic handle make this one durable cooler.
If you're looking for a durable cooler that can fit most camping budgets, then this unit is definitely a top pick.
Pros:
Tons of colors available
More affordable than a YETI, and (almost) as cool
54-quart capacity gives you tons of space
Four-day ice lifespan is long enough for a weekend away
Stainless steel construction is easy to clean and simple to use
Ergonomic handle makes lugging your cooler painless
Cons:
Not quite as durable as the Tundra 65
Best for: campers who are looking for an affordable (yet sturdy) cooler for their next trip.
GoSun Chill 40L Electric No Ice Cooler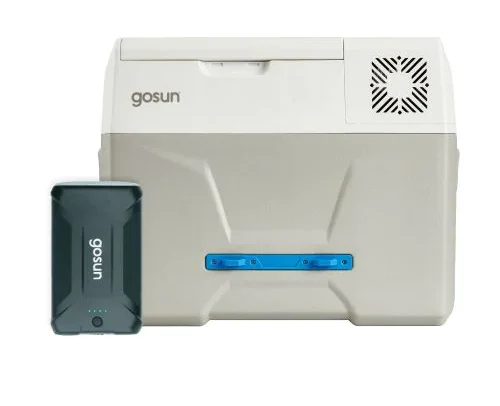 Cooler Type: Electric, Hard-sided | Weight: 28 lbs | Capacity (L): 40 | Materials: R-10, Closed cell polyurethane foam
We love GoSun's innovative solar and electric products, and the GoSun Chill 40L Cooler is another great one.
One of the biggest problems when camping is keeping the ice cool throughout your trip – especially if its longer than a day or two.
Well no more. The GoSun Chill runs off its included PowerBank 144 battery pack, AC, or DC power.
When you add on GoSun's solar charging SolarTable, you'll be able to power the chill day and night without any issues!
Pros:
No ice needed to keep your food cold
Runs off battery power, AC or DC
Includes PowerBank 144, so you don't need to go out and buy another power bank
It's only slightly more expensive than YETI products that don't include power banks or premium features
Cons:
Slightly less capacity than some of the other similarly sized coolers
Best for: Those looking for a sustainable and eco-friendly solution for keeping your food cold, no matter how long the trip.
Grizzly – 20-Quart Rotomolded Cooler
Cooler Type: Hard-sided | Weight: 16 lbs | Capacity (L): 18.9 | Materials: Polyethylene
If YETI is top of the line, and Coleman is more affordable, this Grizzly cooler is smack dab in the middle.
Made in the USA, this cooler boasts the usual features such as a variety of colors and reliable insulation. That being said, there are some unique traits that you'll find with this particular model.
First off, the handle is made out of stainless steel, meaning that it can take a beating during the wet season without rusting. The feet of the cooler are made out of rubber, meaning that it won't skid even if you place it on slippery surfaces.
Also, the drain is rather broad, with a diameter of two inches. This wide construction makes it easy to drain water quickly. That means you won't be left waiting for an eternity as the water drips out of the cooler as slow as molasses.
In this portable cooler, the lifespan of ice is around four days in temperatures up to 90 degrees Fahrenheit.
Its plastic tray is also removable making it easier to clean the cooler when you're done using it.
Pros:
Non-slip rubber feet help you avoid slippage
Extensive insulation (keeps ice for four days)
Stainless steel handle won't rust or snap
Tons of colors available
Full drain for smooth water flow
Removable tray makes for easy cleaning
Cons:
Pricier than the Coleman cooler, but similar in features
Smaller than some of the other coolers we reviewed
Best for: campers who want premium features like rubber feet, a removable tray, and stainless steel handles.
Orca – 20-Quart ORCG020 Cooler

Cooler Type: Hard-sided | Weight: 18 lbs | Capacity (L): 18.9 | Materials: Stainless Steel
Let me start by saying that this Orca cooler is a fair bit smaller than the other hard coolers I've covered. That being said, it's still worth checking out for a few reasons.
While the two standard colors of this cooler are the military hues of green and tan, it also comes in white or even pink if those shades better suit your taste.
The lid gasket on this model ensures that the seal is nothing short of perfect.
The stainless steel handle has a flexible grip to ensure that it's as comfortable as it is durable. I found that the single-handle design made it easier for me to bear the weight during my trek to the campsite.
This isn't the most affordable cooler nor the biggest, but it definitely excels in certain areas. It's worth noting that there's also a 140-quart model for campers with more substantial needs, but that variant won't come cheap.
Pros:
Lid gasket seal is one of the strongest on this list
Four colors to choose from
Stainless steel handle that's thick and durable
Cargo net attachment for added storage
140-quart variant available, for extra-large camping needs
Cons:
Smaller than other options, but a legitimate contender nonetheless
Best for: solo campers who want a durable cooler but don't need too much storage space.
Dometic CFX3 55IM Powered Cooler + Icemaker
Cooler Type: Electric, Hard-sided | Weight: 47 lbs | Capacity (L): 53 | Materials: Plastic/polyurethane
This model from Dometic is pretty much a mini fridge for camping. You can use it as a cooler, but in case you need a freezer, it'll work for that, too. Although, there are no separate chambers so it can't do both at the same time.
This cooler has a 56 quarts capacity. Since it's electric-powered, you don't need to use ice to keep things cool. For this reason, there's more space for your food and drink.
When set to the freezer mode, the cooler can reach temperatures as low as -7°F. You get two ice trays with silicone lids, which prevent water from spilling before it becomes ice.
There's a side display where you can set the desired temperature. But, you can also download an app and do all that from your phone. You can also see a complete history of the temperature settings on the app.
Pros:
The cooler can be powered by AC, DC or a solar power supply
You can use it as either a fridge or a freezer, depending on what you need
It comes with two silicone ice trays
You can download a phone app where you can set the temperature
Spring-loaded aluminum handles allow you to carry the cooler by yourself
Cons:
Even when empty, it's quite heavy
It costs way more than non-electric-powered coolers
Best for: camping enthusiasts willing to invest in a portable freezer.
YETI Tundra Haul Wheeled Cooler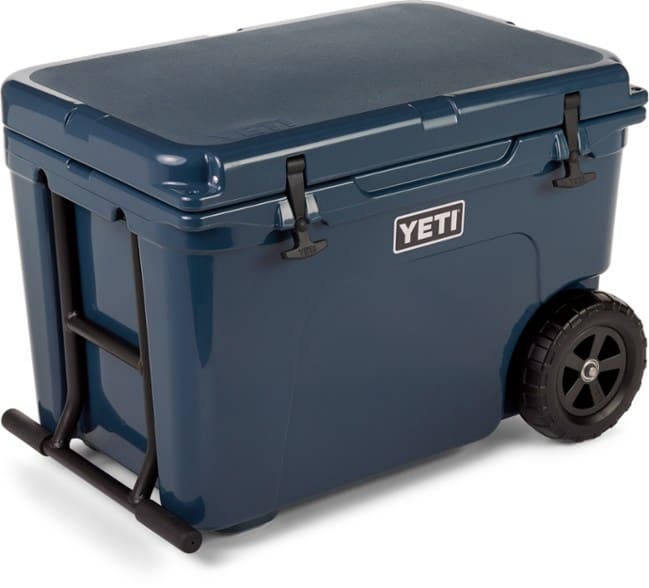 Cooler Type: Hard-sided | Weight: 37 lbs | Capacity (L): 47.6 | Materials: Rotomolded polyethylene
If you're anything like me and tend to overpack, you'll love that this model from YETI has wheels. You can roll your food from the car trunk to the campsite and save yourself from getting a hernia.
This cooler is made of the same material used for making kayaks, so you know it's durable and tough.
Like other YETI coolers, this model is bear-resistant. It has a thick foam inner layer that not only keeps the groceries cool but it also blocks some of the scent from the inside.
The Tundra Haul has a 45 quarts capacity. That means that, with a 2-to-1 ice-can ratio, you can store 45 cans of soda inside.
Since this is such a large cooler, having dry goods racks or dividers would be handy. For some reason YETI didn't make this model compatible with such accessories, which is quite a shame.
Pros:
This is as premiums of a rolling cooler as you can get
It holds your food and drink cold for several days, even when its 130°F outside
Thanks to the T-bar handle and puncture-resistant tires, you can move the cooler around on any kind of terrain
Since it's wide and sturdy, you can use it as a seat too
Like other YETI coolers, this model is bear-resistant
You can store 45 standard-size cans (plus ice) inside the cooler
Cons:
Lacks a basket divider, which would be a nice feature to have
Best for: families or a group of friends camping together.
YETI Tundra 45 Cooler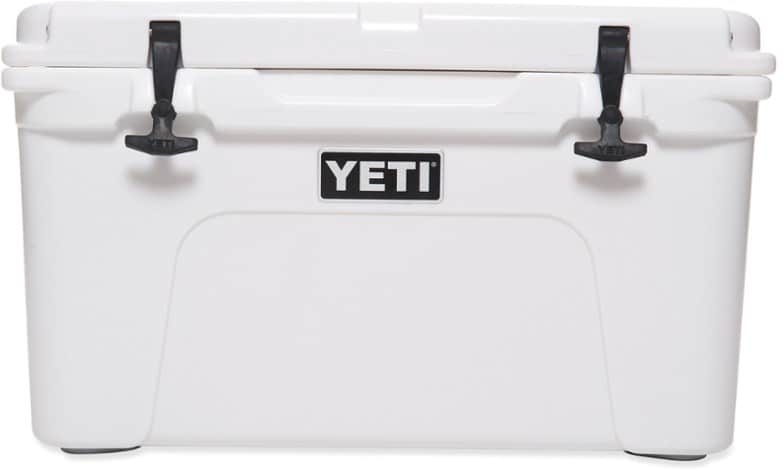 Cooler Type: Hard-sided | Weight: 23 lbs | Capacity (L): 32.9 | Materials: Rotomolded polyethylene
Don't let the number 45 fool you – that's just the name of the model. This portable cooler has a 33 quarts capacity, which equals 28 cans of beer.
In other words, this size will suffice for a three-day camping trip with your partner, with enough room for food and a few drinks.
The Tundra 45 looks pretty basic, but it's quite strong. Like other YETI coolers, it's bear-resistant. That's thanks to the thermoplastic exterior, thick foam interior and rubber latches.
I love that this model comes with a dry storage basket. This allows you to separate food from drink and find what you're looking for faster. The less you keep the cooler open, the less it loses its cooling ability.
Thanks to the rubber feet, it won't slide off the boat deck during bad weather. There are also tie-down slots at either end of the cooler to secure it even better. The strap, however, is bought separately.
Pros:
At 23 pounds, it's lighter than most hard coolers on the market
It's bear-resistant, thanks to the thick thermoplastic it's made of
There are two lock points, so you can keep your food protected in case a bear visits your camp
It comes with a dry goods rack that keeps your sandwiches separated
It can hold the temperature for five days
Cons:
The drain plug doesn't have a leash, meaning you can easily lose it
The white version of the cooler is hard to remove dirt stains from
Best for: cooling food and drinks on a boat.
IceMule Pro Cooler – 23 Liters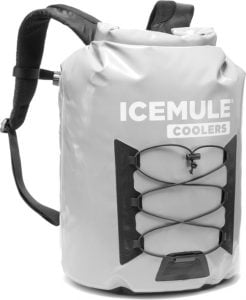 Cooler Type: Soft-sided | Weight: 3.2 lbs | Capacity (L): 23 | Materials: 1,000-denier ripstop tarpaulin/vinyl/nylon
An extremely durable backpack-style cooler, the IceMule Pro Cooler 23L keeps everything cool for your beach and boating adventures.
It holds 18 cans, plus ice, and its waterproof construction has welded seams and absolutely no zippers.
Frankly, I was surprised by the amount that we could fit into this cooler. More than enough for a day or even weekend trip.
Made with 1,000-denier ripstop tarpaulin/vinyl/nylon the material is incredibly thick and keeps your food and drinks cold for up to 24 hours.
Not only that, but the IM Air Valve allows for easy compression and rolling the cooler up to store. Trust me, this is a really cool feature.
The size and utility of this cooler also makes it useful to haul out your trash or anything else.
The only downside is that with the amount of food and beverages you can pack into this cooler, it can get rather heavy when fully loaded.
Read our full IceMule Pro Cooler Review here. 
Pros:
At 3.2 lbs, this is as lightweight a cooler as you can get for the capacity
The IM Air Valve helps to add insulation or decompress for storage
Makes carrying your food and drinks to hard to get to places much, much easier
Backpack straps are comfortable and easy to use
Cons:
Can get fairly heavy for an average user, when fully loaded
A bit confusing to get closed properly the first time around
Best for: the overall best soft-cooler that can fully replace a hard-cooler for all sorts of trips.
REI Co-op Cool Trail Split Pack Cooler
Cooler Type: Soft-sided | Weight: 2.5 lbs | Capacity (L): 31.5 | Materials: Recycled ripstop nylon
This Cool Trail Split Pack cooler from REI is great when going on a day walk in nature.
You can pack sandwiches and a few drinks – this cooler can hold 12 cans of soda. And when filled with ice or cold packs, your stuff will stay cool for the whole day.
The coolest thing about it is that it doubles as a backpack. There's plenty of space in the top compartment for your necessities. The side pockets are great for holding water bottles, while you can put a map or a flashlight in the top pocket.
What's also great is that you can attach bulky things to the front straps. That way, you can carry light but bulky things, like a picnic blanket or a foldable chair.
The idea behind this cooler is great, but flawed. If you incline it to the sides when there's melted ice inside, you risk the water leaking to other compartments.
Pros:
There's plenty of storage space for things like a lunch box or a water bottle
The cooler holds the temperature for the whole day
Front straps allow you to attach bulky items to it
The cooling section is removable, so you can precool it in the fridge
Padded straps help with taking some of the weight off of your shoulders
Cons:
It's not entirely waterproof
Best for: carrying food and drinks on day hikes.
YETI Hopper Flip 18 Soft Cooler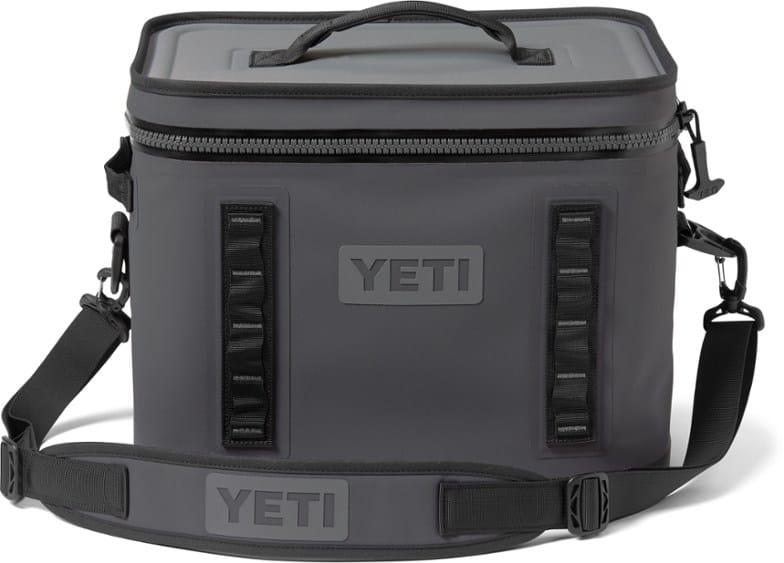 Cooler Type: Soft-sided | Weight: 5.1 lbs | Capacity (L): 17.8 | Materials: Thermoplastic urethane
For a soft sided cooler, the Flip 18 has great ice retention. It can keep food cool for up to three days.
However, there's only enough space to put a few steaks and maybe 16 cans of beer. By the time the ice melts, your food and drinks will be long inside your stomach.
Since it's soft sided, it's not bear-proof. But, it's waterproof and puncture-resistant. For a soft cooler, it's pretty tough.
The cooler has a top handle and a shoulder strap for carrying. It's somewhat bulky so it's not really suitable for day hikes, but carrying it for a few miles shouldn't be a problem. The strap has an ergonomic pad, which prevents it from cutting into your shoulder.
This is a high-quality cooler that performs very well. However, it also comes with a premium price tag. Considering that for the same amount, you can find a hard cooler with a larger capacity and bear resistance, some might opt for a more economic option.
Pros:
The outer part of the bag is resistant to punctures, water, mildew and UV radiation
A padded shoulder strap makes carrying more comfortable
Thanks to the rubber foam insulation, it keeps groceries cool for up to three days
Daisy chain straps at the front are great for attaching a bottle opener or a pocket knife
Thanks to its cubic shape, you can pack things like long-neck wine bottles
Cons:
Very expensive for a soft cooler
Best for: couples going on a picnic.
Types Of Coolers
Camping coolers can be sorted into four categories. You've got soft coolers, hard coolers, electric coolers and styrofoam coolers.
Here's a brief explanation of each of these types:
Soft Coolers
Soft coolers are basically a stiff bag with insulation.
They're usually on the lighter side and can be carried across your shoulder, in hand, or sometimes even as a backpack.
Since they're smaller and can't hold temperatures for as long as hard coolers, these are more of a single-day option. They're perfect for day hikes, picnics and fishing trips, to name a few.
Because of their small size, they usually use ice packs or small ice blocks to keep the contents of the cooler bag cold.
Hard Coolers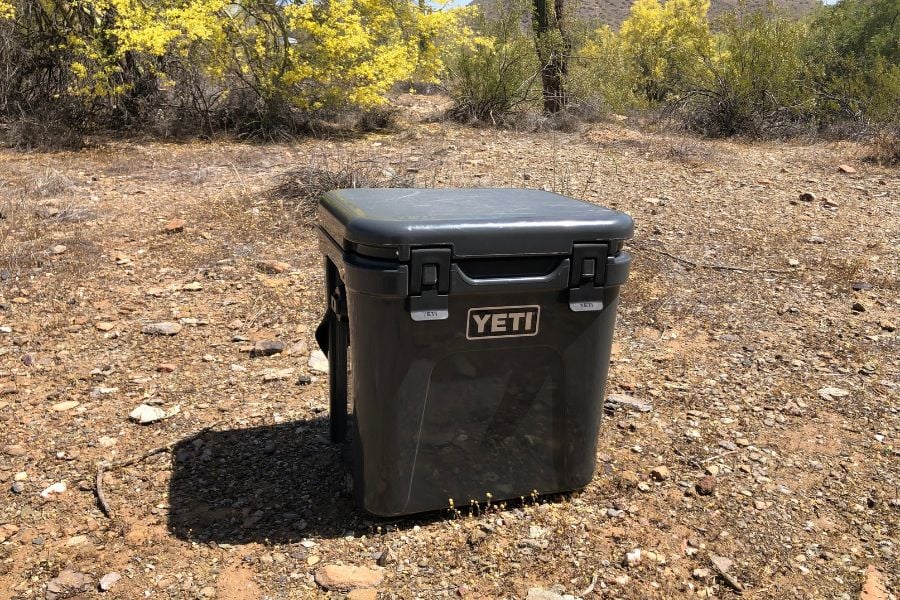 A hard shell cooler is the most common type of cooler used for camping.
Most of the time, they're either made of plastic or fiberglass and steel.
While fiberglass and steel coolers are more durable, they're also heavier than plastic.
When compared to soft coolers, a hard sided cooler is heavier and more cumbersome, but has better insulating ability.
Most of them can keep food cold for about four or five days, providing you keep them in the shade as much as possible and don't open them too often.
Electric Coolers
This type of cooler is basically a portable mini fridge.
They require a power source, whether it's your car's DC outlet, a portable power station or a generator.
Additional Reading: How To Quiet A Generator For Camping And Enjoy The Sound Of Nature
They cost more than hard and soft coolers, but they can keep your food chilled and fresh for an unlimited amount of time, as long as you have power.
Since they don't use ice for cooling, you can use them at their full capacity.
If you've got access to a power source, it's definitely worth investing in an electric cooler. You'll be able to kick back at the campsite and relax, without having to worry about ice melting and food going off.
Styrofoam Coolers
These are the most basic of coolers.
They use styrofoam for insulation, which makes them quite lightweight. This is great if you need a cooler that's both large and easily portable.
However, it also means they can't hold temperatures for as long as other coolers can. So, if you need a cooler that's going to be effective for more than a day, a styrofoam cooler might not be the way to go.
In general, they'll serve you well for a single-day trip, making them great for family barbecues, birthday parties and sporting events.
Coolers come in all different shapes and sizes. But which one do you need?
The answer as to most things is: it depends.
How long are you going for?
How much storage space do you have in your car?
Does the cooler need to fit onto a boat, kayak, RV or other type of vehicle?
Coolers generally come in the following sizes:
Mini/Personal Coolers (4 to 10 quart)
Small Portable Sized Coolers (10 to 20 quart)
Medium Sized Coolers (20 to 30 quart)
Large Coolers (30 to 55 quart)
X-Large "Party" Coolers (55 to 88 quart)
Giant Coolers (100+ quart)
Personally, I have found that having two medium sized coolers (a YETI Roadie 24 and the BougeRV 30 QT)  is sufficient for 2-3 day camping trips for my family of four. One cooler for food and another for beverages.
Another benefit of splitting your food and beverages, makes it so that you can grab your drinks at anytime without disrupting meat, cheese, and other more perishable items.
But the larger your group, the more food you will need, and the bigger cooler you'll want. That is why ultimately we love the YETI Tundra, because of its X-large capacity and its unparalleled workmanship and quality.
Choosing The Right Cooler For Camping Trips
There's a lot more that goes into picking the right cooler than you might think. Everything from insulation, seals, and even drains can be factors that need to be considered when you're choosing a unit for your next camping trip.
I'm going to go over all the criteria that you should look at before making your decision in this section.
Insulation
The first thing that you should analyze when choosing between coolers is insulation. There are various types of insulation across different units. Each one has its own level of effectiveness in keeping everything inside sufficiently chilled.
While there are different materials used to insulate the coolers, you should be more focused on the thickness of the foam.
This is because the thickness makes a major difference in performance, while the material only makes a marginal difference.
Seal
All the insulation in the world won't do you any good if the seal on your cooler isn't up to par. If the warmer air outside can make its way into the cooler (due to poor sealing), then the cooler essentially becomes useless.
There's simply no margin for error here, and thus, any cooler worth its cost should seal correctly. If you notice weak seals or faulty mechanisms, then swipe left on that unit and find a better one.
Lid gaskets are the best type of seal that you'll find in a camping cooler, but other varieties are okay too as long as they're well-made.
If you're really intent on checking the seal of your cooler, you can attach an air compressor to the drain of the cooler and checking for any escaping air. But, most of the time, you can eyeball it.
Drain
The drain of the cooler is another element that you should be paying attention to if you hope to find the right unit. That's because there's really no avoiding wetness within your cooler.
After all, ice won't remain a solid unless you're camping in Antarctica – but then, you wouldn't need a cooler to begin with. When the ice inside your cooler inevitably melts and fills your unit with water, a reliable drain is required to get rid of all that excess liquid.
Draining your cooler when it gets too full will help conserve the remaining ice. You should pick a cooler that has its drain fixed into the interior of the unit so that it won't come off if something impacts it.
There was this particular cooler that I brought along on a camping trip with my boys. They were skipping rocks when they let a rock slip out of their hands and accidentally hit the cooler. Since the drain was fitted to the exterior of the unit, it immediately came off and was beyond repair.
You should also make sure the drain is reliable and sturdy. The last thing you want is a leaky drain that soaks the backseat of your car.
Handle
You might think that the handle of a cooler is nothing more than a trivial detail, but you'd be surprised how useful it can actually be. When your coolers are filled with ice, food, and bottles of water, you'll be thankful that you have an ergonomic handle to hang onto.
Comfort is vital, but you should also ensure that the handle on your cooler is durable. You don't want it to come off in the middle of a hike to your campsite. It'd be a tragedy if all your perishable supplies were sent rolling down the hill.
Lastly, you should look for a handle that tucks in flush so that you can easily store your cooler when you're not using it.
Never forget the golden rule when testing out handles: if it feels cheap, it probably is.
Cooler Tips & Tricks (How To Get The Best Use Out Of Your Cooler)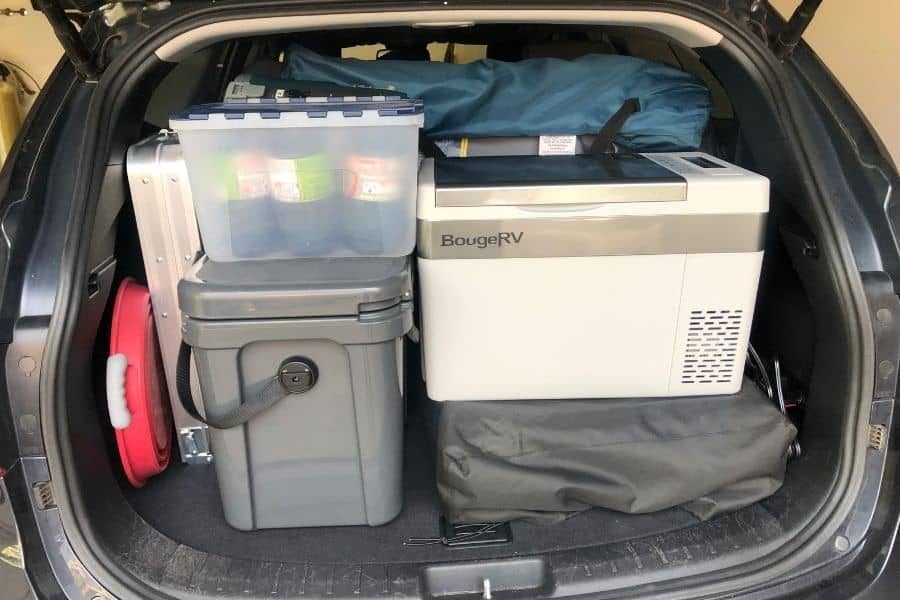 Different models have different cooling abilities. But even if your cooler is capable of keeping your food fresh for a week, if you don't use it properly, you can end up halving that period.
Luckily, there are some tricks that can help you use your cooler to its full potential.
One of the things you can do to improve your cooler's cold retention ability is to pre-chill it before filling it up with food and drinks.
To do this, fill it with ice a couple of hours before the trip. When the time comes to hit the trail, remove some ice to make space for your groceries.
If you plan on eating steaks or poultry on your camping excursion, freeze them before packing. Do the same with water bottles. That way, they help with lowering the overall temperature inside the cooler.
Bigger ice blocks melt slower, so go for them instead of the standard ice cubes you'd put in a drink.
Finally, this goes without saying – keep the cooler patched and closed. If you don't close it right after you're done taking stuff out, you're going to let the hot air in. This will result in your food going off quicker, which could lead to food poisoning and you wouldn't want that.
FAQs
How do you pack a cooler for camping?
First things first, you should achieve a 2:1 ice-to-content ratio to keep your stuff cool for as long as possible.
When packing, start by adding a block of ice at the bottom, then fill the cooler up with food in reverse order, with the last-day food going first and so on.
Once you have everything inside, fill all the gaps with ice cubes, as any free space will affect how fast the ice starts melting. Finally, top the content with a few frozen ice sheets to trap the cold inside.
How big of a cooler do I need for camping?
That depends on the size of your group and the length of the trip. Coolers ranging between 25 and 45 quarts are generally suitable for two to three people during a weekend trip.
For families and longer stays, you'll need a cooler that's between 45 and 70 quarts in capacity. Of course, you can also split your contents between two medium-sized coolers, which is typically what we opt to do.
Can I use dry ice in a cooler for camping?
Yes – in fact, dry ice is much colder than regular ice, so it will do a better job of keeping your food and drink cold. Plus, dry ice doesn't melt but turns into gas. That means you won't end up with a puddle inside your cooler within a few days.
However, dry ice doesn't last as long, so it's only suitable for shorter camping trips.
Which cooler holds ice the longest?
Currently, the YETI Tundra 65 is one of the best coolers on the market when it comes to ice retention.
If packed properly, this cooler can keep your food and drinks cool for more than five days.
Are electric coolers good for camping?
As long as you have where to charge them, electric coolers are a great option for camping, given that they allow you to use their capacity in full for storing items.
If you don't have the option to charge the electric cooler, then it's only good for a day trip.
Are soft coolers good for camping?
Soft coolers can be a suitable option for an overnight camping trip.
When packed with ice in a 2:1 ratio, a soft cooler will keep your stuff cool for the whole day.
Our Verdict
When you cross-reference the criteria we discussed with the products we reviewed, it's clear that the YETI Tundra 65 is by far the best cooler of the ten.
Its thick insulation, rubber latches, and bear-resistant design make it a top-level cooler. You can't go wrong with any of the models on the list, but the Tundra 65 is the clear winner in my book thanks to its supreme durability.
Stay tuned for upcoming articles on the latest and greatest camping gear!