In a rush? We found that the best budget 4 season tent is the Teton Sports Mountain Ultra Tent.
In today's smartphone-savvy society, it's hard to get away from the screen for more than a few hours. For me, that's where camping comes in. There's no easier way to escape the internet than to go pitch a tent in the middle of nowhere.
That being said, camping is a challenge in the winter. Cold weather makes it hard to sleep outdoors, no matter how thick your skin is.
If you want to camp year-round, you'll need a four season tent. Unfortunately, these tents are pricier than their summer cousins.
Today, I'll show you my favorite budget 4 season tents, so you can camp in the cold without spending a pretty penny. Here they are:
Best Budget 4 Season Tent: Our Top Recommendations 
Teton Sports – Mountain Ultra Tent
Tent Size: 4 person | Tent Type: Dome | Weight: 10.1 lbs | Max Inside Height:  58 in| Floor: 95 x 80 in (52.7 sq ft) | Setup Time:  10 mins
When it comes to four-season camping, I've always been a fan of Teton tents because of their quality workmanship and versatile designs. I wasn't disappointed with the Mountain Ultra Tent because it frankly exceeded most of my expectations.
First of all, it's super light for a camping tent of its size. This made it really easy for me to carry it to the campgrounds. Once I got there, it was simple to set up, and I was able to get it done in a couple of minutes flat.
Teton is also historically responsive when it comes to customer service. If I ever run into a problem with this tent — which I highly doubt — I'm sure they'll assist me like they always have.
Pros:
Very affordable for a four-season tent of this quality
The waterproof rainfly has always kept me dry even during heavy downpours
It comes with a storage bag that makes it very easy to pack up after camping
Built-in vents provide proper ventilation during the summer months
Mesh top helps you admire the beautiful night sky without getting pestered by nighttime insects
As light as three pounds when empty, which makes it a breeze to transport
The footprint is included with the tent and is also top quality
Cons:
It can be a bit tricky to close the zippers if you're only using one hand, but the solution for that is rather apparent
The poles were made to be lightweight, so they aren't the strongest – you might consider picking up a pair of aftermarket poles
Best for: budget-conscious campers who still want a lightweight, easy cold weather tent.
Camppal Backpacking Tent
Tent Size: 1 person | Tent Type: Dome | Weight: 3.75 lbs | Max Inside Height: 35.4 in | Floor: 35.4 x 98.4 in (24.2 sq ft) | Setup Time: 3 min
This 4 season camping tent from Camppal comes in a 1, 3 and 4 person version.
It's a super lightweight backpacking tent, making it an excellent choice for solo backpackers and tandems. You could even have 3 people in the 4 person tent, but there wouldn't be much wiggle room.
It's 100% waterproof with seam taping on the bottom corners, so you can rest easy knowing you'll stay bone dry through every storm, no matter how heavy.
The shape of the tent, as well as its relatively low peak height, also make it highly resistant to strong winds.
This tent may be low, but it's a whole 8.2 ft. long, so you'll be able to stretch out comfortably no matter how tall you are.
Another neat feature is the vestibule, which has an awning you can put up using your trekking pole(s). This gives you a nice little covered area for your shoes and any extra stuff.
Pros:
Aluminum poles for a strong and stable structure
Ultralight tent, making it perfect for backpacking
100% waterproof with seam taping on the bottom corners to keep you dry
Highly wind-resistant, thanks to its low height and shape
Features a vestibule with an awning
Long enough for tall people to be able to sleep comfortably
Cons:
The rain fly doesn't have many attachment points, so it might shift around a bit
Best for: solo hikers and pairs looking for a lightweight tent that'll hold up well in harsh weather conditions.
ALPS Mountaineering – Tasmanian Tent
Tent Size: 3 person | Tent Type: Tunnel, Dome | Weight: 9.8 lbs | Max Inside Height: 54 in | Floor: 70×92 inches (43.5 sq ft) | Setup Time: 12-15 mins
I've reviewed ALPS tents in the past, and they always provide exceptional performance. They're pretty pricey though, so if your budget is restrictive, then they may not be the right pick for you. This tent is very durable and versatile — definitely living up to its four-season title.
The interior is very spacious for a 2 person tent. My boys and I were able to move around freely inside, even with all of our gear in there.
There's also a gear loft that comes in handy along with mesh pockets on the sides for other items that you might wanna keep inside your tent. Overall, while this is a premium option compared to the other tents that we're reviewing today, I would say that it's well worth the cost.
Pros:
Spacious interior ensures you won't feel cramped while spending time inside the tent
Lots of storage options inside the tent for all your camping gear
The freestanding tent pole system makes it really easy to set up
Sealed seams keep you dry even under rainy conditions
Lifetime warranty is proof that ALPS has faith in the durability of this product
Cons:
Campers who are working with a smaller budget may not be able to afford this tent due to the comparatively higher price
Its fabric looks stretched at the corners and could rip as a result, but mine thankfully hasn't yet
Best for: experienced campers who want a premium tent that'll keep them extra warm and cozy.
GEERTOP – 4 Season Backpacking Tent

Tent Size: 2 person | Tent Type: Dome | Weight: 6.1 lbs | Max Inside Height: 39.4 in | Floor: (83+39) x 47 in (27 sq ft) | Setup Time: 5 mins
For the thriftiest of campers who want the four-season experience, this GEERTOP dome tent is definitely a prime choice. It's about as affordable as a tent of this quality can get and still performs well despite the lower price.
It has a snow skirt that keeps you insulated during cold camping trips and features a free-standing design for easy setup. The two ventilation windows improve airflow during hotter weather.
I'm more accustomed to warm weather so I can be a bit out of my element when camping during the last quarter of the year. Despite that, this tent always kept me comfortable even when the snow kept on coming.
Pros:
Impressive performance in cold weather
The snow skirt makes it very easy to insulate yourself
Easy to set up even for beginners
Affordable enough to fit any budget
Bright yellow color sticks out like a sore thumb in the snow (making it hard to get lost)
Cons:
The rainfly, although warm, is not the best when it comes to water protection – I recommend bringing a repair kit for extended trips
Best for: winter lovers who prioritize budget over other factors or features.
MoKo – Waterproof Family Tent
Tent Size: 3 person | Tent Type: Dome | Weight: 10.8 lbs | Max Inside Height: 42 in | Floor: (40.6 sq ft) | Setup Time: 30 mins
This tent is even more affordable than the GEERTOP model, and in my opinion, it actually holds up better in bad weather. The waterproofing on this tent is on point.
It performs well under snowy conditions — keeping me warm and dry for the full duration of the trip despite some harsh weather that I encountered.
One thing I do have to mention though is that it's pretty tricky to set up. I've set up countless tents throughout my life, so something that boggles my head is bound to confuse other campers.
Pros:
The multiple layers give you dependable waterproofing
Easily sealable to keep water out and warmth in
The included carry bag is comfortable to transport
Won't break the piggy bank – great for any budget
The small outside vestibule is super convenient for storing your shoes and pack
Cons:
Difficult to set up – just looking at it you can tell you'll have to read the instructions
Best for: budget-conscious campers who want a spacious vestibule to protect their gear.
3 Season Vs 4 Season Tents
Although the difference between 3 season and 4 season tents may seem self explanatory, it actually isn't.
3 season tents are for 3 season use, and 4 season tents are for use year round – right? Nope.
3 season tents are designed to be used during spring, summer and fall. 3 seasons. Pretty straightforward, so far.
4 season tents, however, are designed to be used during fall, winter and spring. That's right – also 3 seasons.
Using a 4 season tent in hot weather would be terribly uncomfortable, as you'd find it way too hot inside the tent to sleep.
Here's a grid that shows you when it's suitable to use tents with different season ratings:
[insert table from 3 season vs 4 season article]
Types Of 4 Season Tents
There are a couple of different types of 4 season tents.
You've got:
Treeline
Mountaineering
Basecamp
Here's the difference between them.
Treeline
4 season treeline tents are for casual winter camping.
They provide protection from the cold and can withstand light snow and moderate winds.
Compared to 3 season tents, they have a denser canopy and usually feature a bathtub floor to protect from flooding in heavy rains.
Unless you're going high up into the mountains, a treeline winter tent will be enough to keep you warm and safe on your average cold weather camping trip.
Mountaineering
If you're hiking at high altitudes, a mountaineering tent is what you need.
They're ultralight so you can easily carry them on your back, and they're built to withstand the harshest weather conditions.
They're a lot smaller than other types of tents and have a lot less headroom. While this might not be as comfortable, their aerodynamic shape and structure resists the strongest winds.
Mountaineering tents are usually single wall tents, as the aim of the game is keeping them feather light.
Basecamp
If you're camping at high altitudes, but sleeping in one place rather than at a different site each night, you'll probably want to get a basecamp tent.
They're tougher and more weather resistant than a treeline tent. But, they're a lot more spacious and comfortable than a mountaineering tent.
Of course, they're also significantly heavier than a mountaineering tent. But, if you're camping in the same place for multiple days and you don't have to carry it on your back during the day anyway, who cares?
These tents are usually double walled, which provides them with better ventilation.
What To Look For In A Budget 4-Season Tent
Now that you've seen my top five picks, let's go into what factors helped them make the list. Keeping an eye out on these features will make sure you choose the right tent, no matter which one you end up going with.
Double-wall
If you're used to buying single wall tents, then you might be wondering why you'd need a double wall tent. The reason is that double wall tents are more suited to year-round use because they put an extra layer between you and the elements.
The inner layer of the tent is super breathable. This layer prevents condensation, while the outer layer keeps the rain, wind, and snow out. Think of double wall tents as an armadillo that can protect itself with an outer shell if a threat comes around.
Double wall tents are also warmer since there's twice as much fabric being used. This is ideal for camping in cold conditions where a single wall tent may not be enough to insulate you from the chilly weather outside.
There are some 4 season tents that are single wall tents. These are ultralight mountaineering tents, designed to be as portable as possible.
Pole design
Pay close attention to the pole design when picking out a four-season tent. You should try to find a tent that has more clips on the poles as this will keep the tent well-attached even if the wind picks up.
The poles themselves should be firm but still flexible so that they can roll with the punches rather than snapping. Aluminum poles are the most common choice for four-season tents as they're durable and weather-resistant.
You should also look at the pole diameter. Thin poles may snap in strong winds while thicker variants will stand their ground. If you can't find any tents with suitable poles, then you could buy an aftermarket set that's more fitted to four-season use.
Setup design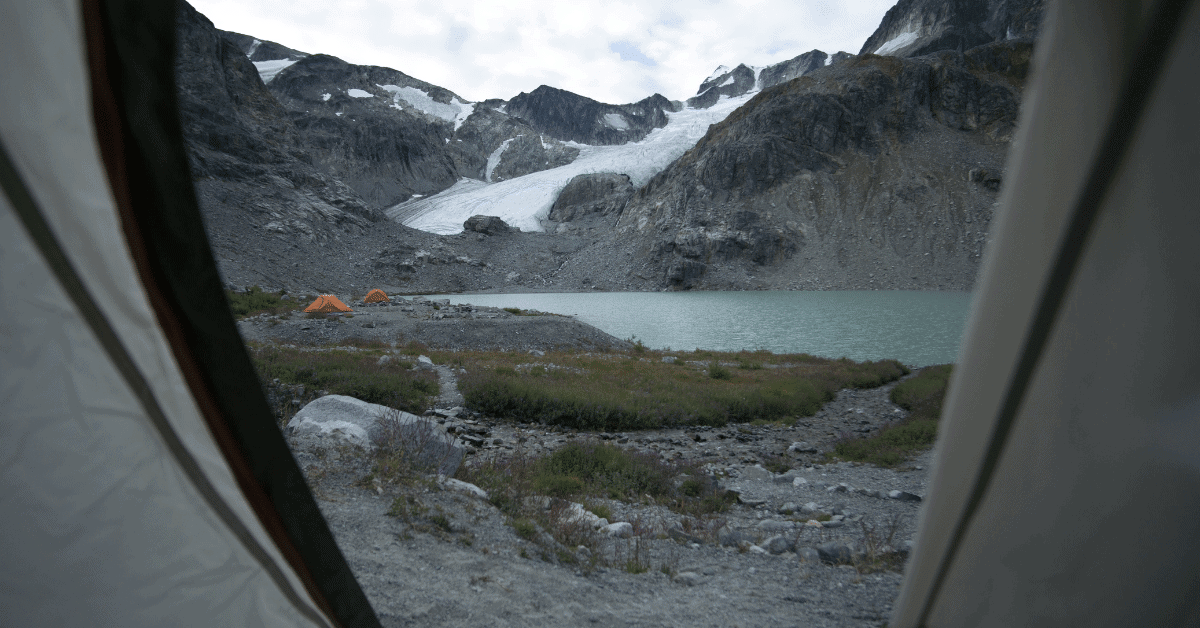 Some people prefer interior pole setups because they're lighter than exterior pole setups. However, you have to factor in the elements that you might encounter in some seasons of the year. Strong winds could cause the interior poles to stab the tent and tear it open.
Exterior pole setups, while generally heavier, are far more versatile. Some of the best four-season tents use exterior poles. They're also a whole lot easier to set up. You don't have to worry about damaging your tent if you make a mistake.
Poles that are set up externally are also less likely to bend. Bent poles aren't that big of an issue in tame weather since you can just grab a spare and swap it out. But, that's not so easy when you're in the middle of a thick snowstorm or torrential downpour.
Ventilation
Humans are warm-blooded creatures like most mammals, and that's why you need a tent with proper ventilation, or you'll be plagued by condensation. When you're camping in cold areas, the temperature of your tent will drop. If your warm breath hits the tent, it will condense.
The easiest way to counteract this is with proper ventilation. Vents allow hot air to leave your tent without condensing so that you don't come across any wet spots when you wake up. Plus, if you're using a tent heater you need proper ventilation in place to prevent carbon monoxide poisoning.
Wet tents are heavier to carry, so condensation will also make it harder for you to hike back with the tent after use.
People often ask me if breathable fabrics are just as good as vents. The answer is a stern no. Vents are far more effective at getting the hot air out of your tent than breathable fabrics. It also does this faster — leaving less time for your warm breath to condense on the surface of your tent.
Weight
The weight of your tent is always an important detail to look at. This is especially true if you plan on camping throughout all the four seasons of the year. If you're camping under optimal conditions and use a big tent, then it's a tiring nuisance at worst.
In contrast, having a tent that's too heavy while in more extreme temperatures can be a problem. Do you want to lug around a pile of bricks while getting soaked in the rain, or freezing in a snowstorm?
Water and snow will also bog down your tent and thus add to its weight. If you go camping enough, you might have to make a few last-minute evacuations in case conditions turn extreme. So, having a light tent will help you pack up faster and get out of Dodge.
Our Verdict
After factoring in all the criteria for four-season tents, I can say with full confidence that the Teton Sports Mountain Ultra Tent is my top pick. It's so versatile in its capabilities and can cope with pretty much any environment.
It's very light and easy to set up (even in harsh weather), making it great for first-time campers. Teton is also a reputable company that I trust wholeheartedly. The storage bag that comes with it allows me to store it in a corner, undisturbed until the next trip.
You'd expect a tent of this quality to cost way more than it does. On the contrary, the price is surprisingly economical. Even campers on a tight budget can experience its stellar performance. Overall, it's an excellent choice for four-season camping.
Did you end up using one of the tents listed in this article? If you did, pay the help forward by sharing this piece with your camping buddies so that they can find the right budget tent for them too. Happy camping!