In case you're running out the door, the best tent fan is OPOLAR – Mini Travel Fan.
Hands down, going camping is one of the best ways to relax. I might be biased, but everyone loves pitching a tent and kicking it around the campfire. That being said, it can be hard to enjoy your camping trip when things get too hot.
If you want to maximize your enjoyment during hot trips, get a quality tent fan and take it along with you on every journey.
Best Tent Fan: Our Top Recommendations
OPOLAR Battery Operated USB Rechargeable Fan
OPOLAR are well known for their wide array of laptop fans. After spending years in the fan niche, they've extended their reach into the camping industry.
As you can imagine, a company that specializes in laptop fans will be just as good when it comes to producing tent fans.
I was a bit skeptical at first since I generally get my fans from camping companies. But, my doubts were blown away (pun intended) when I first turned this little beast on. It was forceful for its size yet surprisingly quiet, considering the strong airflow.
It comes with three settings so that you can conserve the charge when conditions are colder. Then, you can put it on max when things get too hot for your taste.
Speaking of charge…this fan can operate for up to 13 hours on a full charge, making it ideal for camping.
I like pairing this fan with my solar power bank. That way, I never run out of juice during my camping trips. The OPOLAR has enough charge to last the whole night, and during the day the sun keeps it charged too.
Pros:
Powerful airflow – so you don't sweat through the night.
Three settings allow you to tweak the amount of cool you need.
Quiet operation – unlike your restless dog, this fan will not interrupt your sleep.
Lasts up to 13 hours on a full charge (extensive for its price).
It has an LED light to keep your tent bright at night.
Cons:
Can't use alkaline batteries and must be charged, which can be annoying.
Best for: those who are going on long camping trips but want airflow and light throughout the night.
SkyGenius – Battery Operated Mini-Fan

This fan is slightly more expensive than the OPOLAR, but it does have its own merits.
I tested it out on a recent camping trip, and it performed pretty well. My favorite thing about this fan is the fact that you can clip it onto anything – and I mean anything.
I attached it to the loft storage on my tent, and it kept away the heat even when the temperature of the campsite started to peak around noon.
It's not quite as quiet as the OPOLAR, but it's not too loud either. The airflow was powerful enough to counter the sun, so no complaints there either.
It's also USB-powered meaning that you can charge it with any power bank that you might have brought along with you on your camping trip. That being said, it can't stay on for longer than six hours even on a full charge. This could be a problem for longer trips.
Personally, I would rank it lower than OPOLAR because the price is higher despite the charge capacity being smaller.
Pros:
The clip-on feature is handy and removes any frustration of installing your fan.
360 degrees of rotation allows it to be placed anywhere.
Quality airflow for such a small unit.
USB-compatible charging, so you can even plug it into your car or laptop.
The battery is replaceable, which means you can bring multiple batteries to keep it spinning for longer.
Cons:
A bit pricier than the OPOLAR.
Relatively small charge capacity.
Best for: those who are going on a relatively short trip and don't mind the low charge capacity.
AceMining – Rechargeable Fan

If you like aesthetic fans, then you're gonna love this one by AceMining. Beyond the modern design of this fan, there are also other benefits, like the fact that it can operate for up to 26 hours when fully charged.
The total time will, of course, vary depending on the speed you set it to. But, it's still pretty impressive. Just like the OPOLAR, this AceMining fan has three levels that you can choose from depending on how hot or humid the conditions are.
This fan also automatically rotates 180 degrees keeping your entire tent ventilated rather than just a single corner of it. If you're sharing the tent with other people, then the rotation definitely comes in handy. It allows everyone to stay cool without clumping together in front of the fan.
I recently used this fan when I went camping with my boys. They usually block the fan leaving me baking in the heat but, thanks to the rotation, I was able to get my fair share of air for once. That instance alone guaranteed a spot on this list.
Pros:
Very long charge time of up to 26 hours.
A modern and chic aesthetic that brings some class to your camping trip.
The fan's rotation will keep multiple people cool even if they're in different areas of the tent.
Adjustable speeds allow you to modify the temperature of your tent.
Quickly charges via USB, meaning you can power it in your car as you drive to the campsite.
Cons:
The clip variant (which I prefer) is more expensive than the standard version.
It doesn't have an LED light, so you'll need to bring a lantern.
Best for: those who camp with multiple people sharing a tent.
COMLIFE – Battery Operated Portable Fan

This option from COMLIFE is another solid choice if you need a tent fan for an upcoming camping trip. There isn't anything extraordinary with this fan, but its performance is definitely worth checking out.
Airflow wise, it's powerful. When it comes to noise, it's quiet, even when I tried it out in one of my smaller tents. The charge capacity can reach up to 32 hours if you stick to the lower settings — which is more than enough for most people.
Pros:
Impressive charge time (32 hours) will last through your whole trip.
Powerful airflow despite being so portable.
Quiet operation, so you can use it at night.
It can be used straight from your USB with no batteries, which is useful for the car.
Cons:
Not very creative in its design, compared to the other fans.
Best for: campers who favor simplicity over complexity.
Coleman CPX 6 Lighted Tent Fan with Stand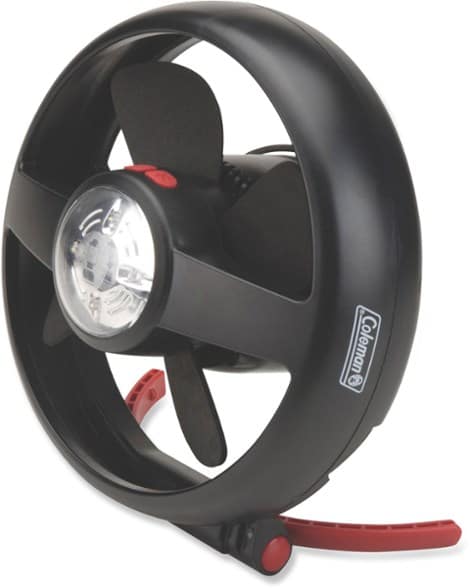 You can trust Coleman to put out a quality product made specifically for camping, and this fan is no different.
The Coleman CPX is both a light and a fan, which makes it handy, especially wen tent camping.
The duel power sources (4 D Batteries) or CPX 6 rechargeable power cartridges (not included), make for easy charging and a longer lasting fan.
Any camping fan is going to have it's limitations in strength of the fan and blower itself. This is no different.
Pros:
2-in-1 fan and light
Two ways to charge with 4D and rechargeable CPX 6 power cartridge
2 light settings, and a "night light" setting.
Childproof and safe with foam blades
Quiet, yet durable
Fold out stand to set on the floor
Cons:
CPX 6 rechargeable cartridges sold separately
Not the most powerful airflow
Best for: campers looking for a portable fan and night light in one.
What To Look For In A Tent Fan
As you can imagine, there are quite a few things to consider before picking a tent fan to take on your next trip. Here are some of the critical elements that you should look at when making that decision.
Noise
You might think that the noise factor is relatively straightforward when it comes to tent fans. After all, you can just pick whichever fan is quietest and be done with it, right? Well, not exactly.
Believe it or not, there's such a thing as too quiet. It can be hard for some people to fall asleep in the wilderness if they're used to the white noise of the city.
That being the case, you might want to pick a fan that, while quiet, leaves some white noise to help you fall asleep.
Of course, this can vary based on personal preference. While I favor an element of white noise, you're free to pick an utterly silent fan if that suits your fancy.
Charge Time
One of the most crucial details that you should pay close attention to before picking your tent fan is how long its charge time is. The last thing you want is to run out of battery in the middle of a hot night.
You might think that solar power banks will keep you safe even if your fan has a low charge capacity. But you might end up draining the battery hours before the sun comes up and have to wait through the night to get a charge, all while struggling to sleep.
Furthermore, your power bank could break at some point during the trip, forcing you to rely on the charge of the fan itself. Get a fan with a high charge capacity (no less than 12 hours). You'll thank me later.
Weight
Of course, you could have the best tent fan in the world, but you'll still suffer if it weighs so much it gives you a backache from carrying it. I'm clearly exaggerating as there aren't any tent fans that heavy, but I think you get the point.
Choose a tent fan that's light enough to carry in your backpack so that you don't have to suffer through the added weight during your trek to the campsite. Picking a lightweight tent fan will also leave more room for other gear that you might want to bring along with you on your trip.
Features
As you might have realized while checking out some of my top picks above, features are more than just bells and whistles. Some of them can be genuinely helpful.
For instance, the hanging hook of the AMZGO tent fan made it far easier to attach it to my tent. The LED on the OPOLAR allowed my boys to read their books even after the sun had bid us farewell.
Don't empty your wallet on feature-rich fans, but try to get useful additions when you can as they'll pay off down the road.
Adjustable Speed
Not all fans have adjustable speeds. Some are fixed at either high or low fan speeds, making them less versatile and harder to use. Just as the temperature in your campsite isn't static, the spinning of your fan shouldn't be static either.
Adjustable speed allows you to lower the power when you want to save battery, while also being able to turn it up to 11 when things get molten hot. Added control is worth the extra cost, and you can quote me on that.
Our Verdict
After analyzing the options on this list and cross-referencing them with the criteria above, I've made my choice. The OPOLAR is definitely my MVF (most valuable fan). I gave all five fans regular usage, but the OPOLAR just stood out for its performance and versatility.
Its charge lasted long (13 hours), and the single LED design kept things bright without draining the battery. It made a stiff breeze while still staying quiet enough for me to hear the ambient noises of the great outdoors.
If you want a tent fan that will serve you well on any camping trip, then definitely go for the OPOLAR.